Results in Peppers – Dec, 2019
Place: Guillermo Caceres Paijan, Peru
Details
Natural Kyminasi Plant Booster (KPB) Technology increases germination rate and flowering.​ Kyminasi Plant Booster was installed in a bell pepper field in December 2019. The field with Kyminasi Plant Booster and control field are comparable in size; about 10 acres each. The fields are adjacent to each other and were planted at the same time; approximately 1 month before the Kyminasi Plant Booster was installed.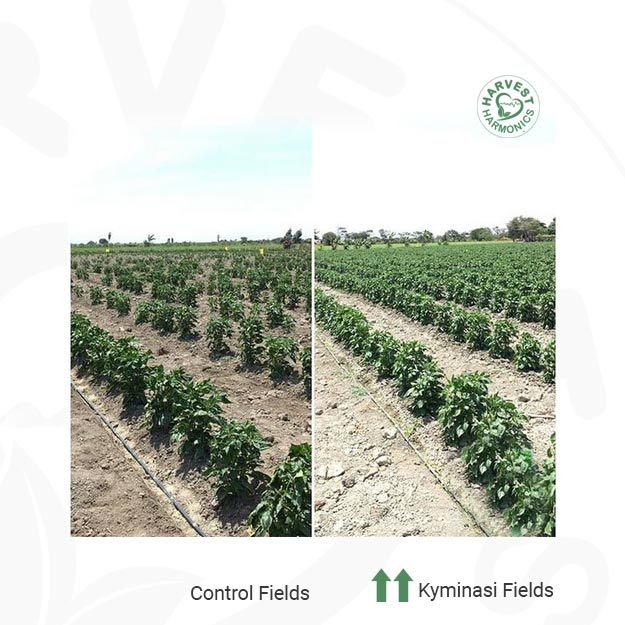 Results
After just 16 days, the Kyminasi Plant Booster field germinated faster and more uniformly than the control field. The control field has many gaps where germination failed or was very slow. After only 16 days using Kyminasi Plant Booster, crops are flowering early, with more buds per plant than control. 30% more blooms than normal for that field (12 per plant average vs 8, which is standard). Plants show more vigor and the leaves and stems are darker green and healthier than control plants. See the video walkthrough of the fields here: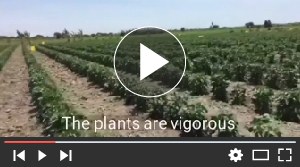 Peppers Results – Sept, 2019
Place: Edible Acres Farm, Tonasket, WA
Details
Natural Kyminasi Plant Booster (KPB) Technology increases production while improving the size and flavor of peppers. Edible Acres is a 12-acre organic farm in Tonasket, Washington USA. It lies on the northern border with Canada. Art Heinemann is known for the high quality of his fruits and vegetables. Art installed the Kyminasi Plant Booster on his farm beginning in 2017. He has tested the Kyminasi tech on several varieties of fruit and vegetables. In June 2019, he planted bell peppers and hot red peppers. After 3 months, the plants were producing 15-20 peppers per plant; 80% of which were fully grown. The peppers had consistent shape and ripeness. They tested at 10 Brix, which is 40% higher than the 5-7 average Brix for this variety.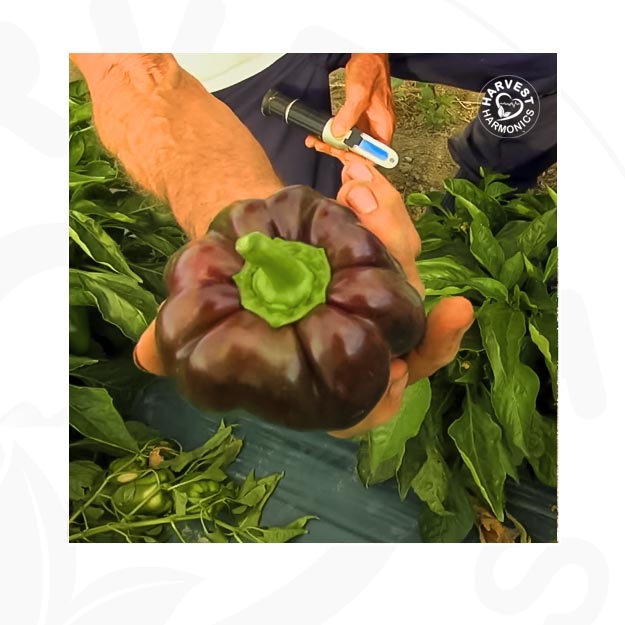 Results
The plants were still blooming in September, which is at the end of his season. Art also noted that the pepper plants had so much energy that they were developing woody stems. This indicates that the plants were transitioning into perennials, which is highly unusual for his area (peppers usually only develop into perennials in warmer regions). See our CEO's interview with him here: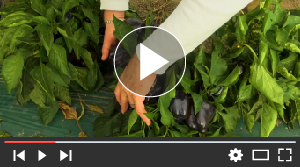 Peppers Results – Spring 2015
Place: Place: Pepper King Farms, Bajo Boquete, Panama
Details
Natural Kyminasi Plant Booster (KPB) Technology increases yield by 70% by weight. Pepper King Farms is a farm in Panama that grows several varieties of bell peppers, onions, and other vegetables in greenhouses. Pepper King had been growing in greenhouses on the farm since 2011. They are the largest pepper farm in Panama. The owner installed the Natural Kyminasi Plant Booster (KPB) Technology is one of his greenhouses and compared the results of that greenhouse to his other greenhouses.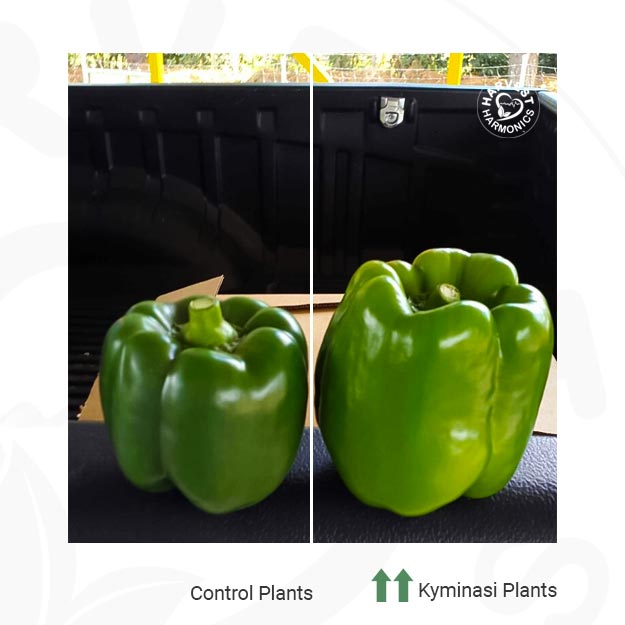 Results
Kyminasi greenhouse produced 70% more peppers by weight versus the control greenhouses. The peppers averaged about 20%-30% larger than control specimens. The added weight resulted from a thicker skin membrane. An additional test was done on the fruit to measure the difference in the shelf life of the peppers. Similar specimens were placed on a shelf and allowed to decompose over 30 days. The Control peppers decomposed at the normal rate. The Kyminasi peppers decomposed at a rate 10-14 days slower than the control peppers, indicating a better shelf life and overall better quality than the control fruit. A disease-infested his greenhouses toward the end of the season and all control plants died within one week of exposure. The Kyminasi Plants showed more resiliency, living for an additional three weeks before finally succumbing to the disease. The owner Ariel Flores remarked that he had never seen plants fight off such a virulent attack before.
Questions? Schedule your free Zoom appointment